15 Feb 2022
G.S.R. 127(E) regarding inviting comments and suggestions from stakeholders for fitting of vehicle. tracking system device in goods carriage vehicle,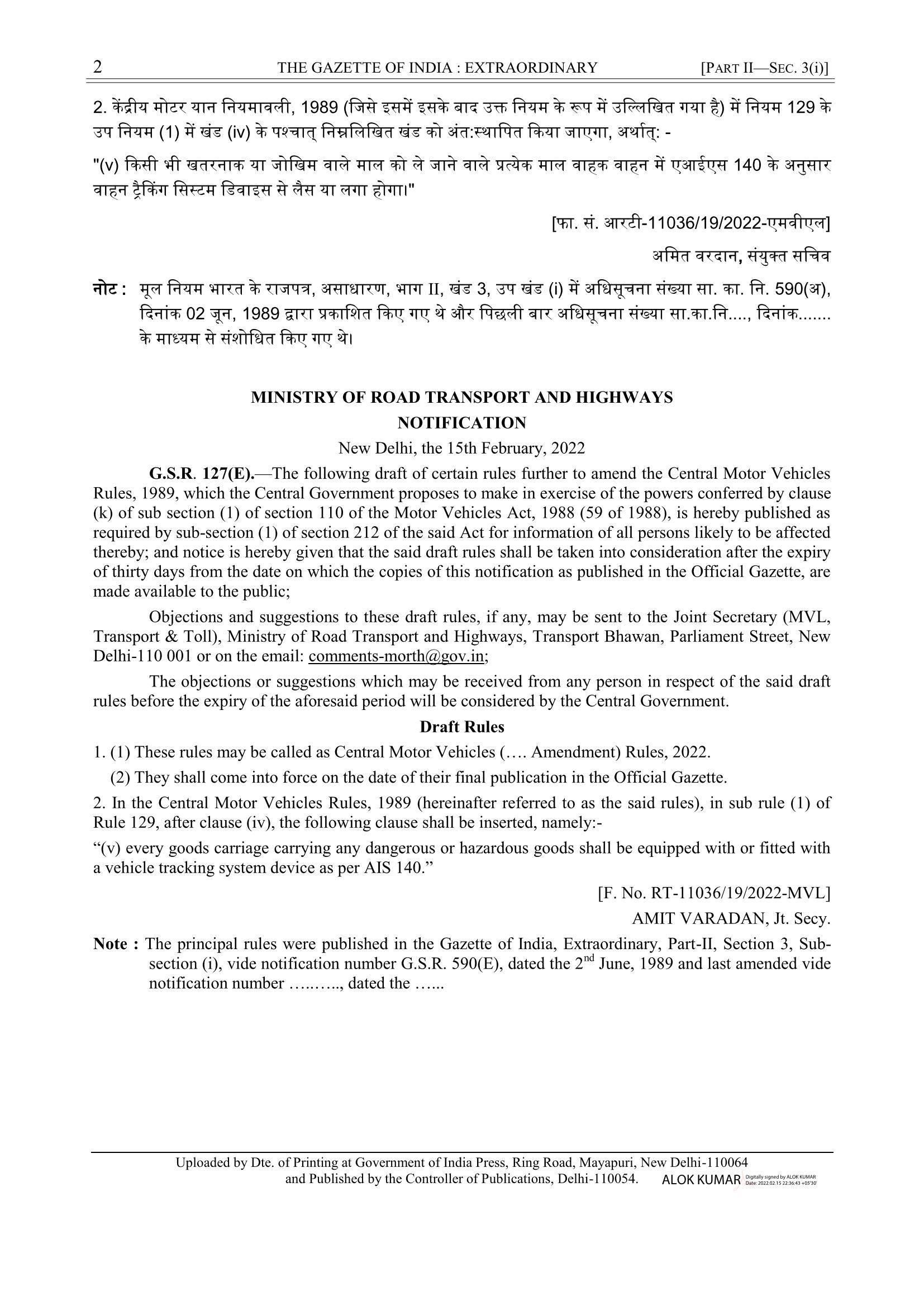 GIVE OBJECTIONS AND SUGGESTIONS TO THIS DRAFT RULES
MINISTRY OF ROAD TRANSPORT AND HIGHWAYS
NOTIFICATION

New Delhi, the 15th February, 2022

G.S.R. 127(E).—The following draft of certain rules further to amend the Central Motor Vehicles
Rules, 1989, which the Central Government proposes to make in exercise of the powers conferred by clause
(k) of sub section (1) of section 110 of the Motor Vehicles Act, 1988 (59 of 1988), is hereby published as
required by sub-section (1) of section 212 of the said Act for information of all persons likely to be affected
thereby; and notice is hereby given that the said draft rules shall be taken into consideration after the expiry
of thirty days from the date on which the copies of this notification as published in the Official Gazette, are
made available to the public;

Objections and suggestions to these draft rules, if any, may be sent to the Joint Secretary (MVL,
Transport & Toll), Ministry of Road Transport and Highways, Transport Bhawan, Parliament Street, New
Delhi-110 001 or on the email: comments-morth@gov.in;
The objections or suggestions which may be received from any person in respect of the said draft
rules before the expiry of the aforesaid period will be considered by the Central Government.
Draft Rules

1. (1) These rules may be called as Central Motor Vehicles (…. Amendment) Rules, 2022.
(2) They shall come into force on the date of their final publication in the Official Gazette.
2. In the Central Motor Vehicles Rules, 1989 (hereinafter referred to as the said rules), in sub rule (1) of
Rule 129, after clause (iv), the following clause shall be inserted, namely:-
"(v) every goods carriage carrying any dangerous or hazardous goods shall be equipped with or fitted with
a vehicle tracking system device as per AIS 140."


[F. No. RT-11036/19/2022-MVL]
AMIT VARADAN, Jt. Secy.