6 Sep 2021
MORTH order to all states to abolish all Border check posts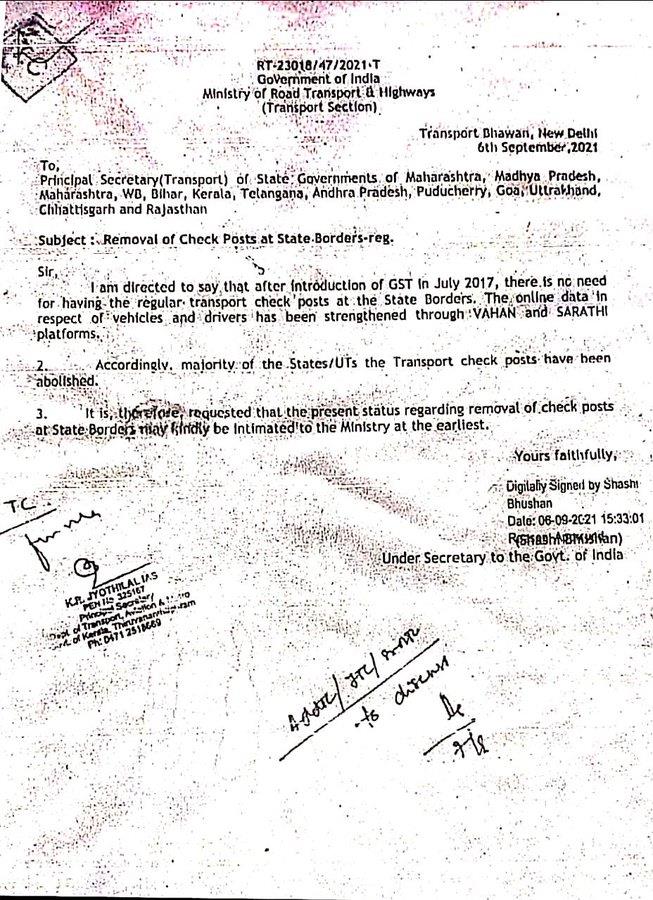 RT-23018/47/2021-T
Government of India
Ministry of Road Transport & Highways
(Transport Section)
Transport Bhawan, New Delhi
6th September 2021
To
Principal Secretary(Transport) of State Governments of Maharashtra, Madhya Pradesh, Maharashtra, Wb, Bihar, Kerala, Telangana, Andhra Pradesh, Puducherry, Goa, Uttrakhand, Chhattisgarh and Rajasthan.
Subject: Removal of Check Posts at State Borders-reg.
Sir,
I am directed to say, that after the introduction of GST in July 2017, there is no need for having the regular transport check posts at the State Borders. The online data in respect of vehicles and drivers have been strengthened through VAHAN and SARATHI platforms.
2. Accordingly. majority of the States/UTs the Transport check posts have been
abolished.
3. It is, therefore, requested that the present status regarding removal of check posts at State Borders may kindly be Intimated to the Ministry at the earliest.
Yours faithfully,
Digitally Signed by Shashi
Bhushan
Date: 06-09-2021 15:33:01
Under Secretary to the
Govt. of India