11 Jul 2019
Six months' jail for overloading vehicles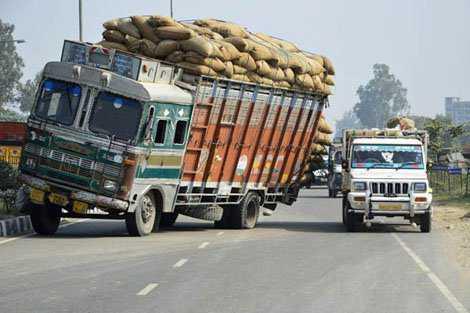 Kolkata: Keeping in mind the damage caused to the roads by overloaded goods vehicles, and their susceptibility to accidents,
the amended Section 3 of the Prevention of Damage to Public Property (Roads) Act, 1984, has included a far more stringent
penal provision. On Monday, the letter specifying the harsher penal provision in the amended rule reached the state
secretariat, clearly stating that the driver of the overloaded vehicle will get minimum imprisonment of six months. His driving
license will also be canceled for the next three years.

Besides, the notification also said an FIR will be registered against the owner of the vehicle and a heavy penalty will be
imposed on him. Even the sender and the recipient of the consignment would not be spared.

According to surveys by the Indian Foundation of Transport Research and Training, one in every three trucks in the country is
overloaded. These accounted for 20% of road accidents.

When a truck is overloaded, the control on the steering and brakes is reduced. In addition, frequent overloading reduces the
productive life of the vehicle, as well as the productive life of the road, said Subhas Mukherjee of West Bengal Truck Operators'
Association. "We welcome the move as overloading reduces the life of a goods carrier by 40%," he added.

But sources indicated this step is not enough to solve the problem as truck owners and operators continue to load their
vehicles beyond the permissible axle load to maximize earnings. Similarly, the consignors of bulk commodities, like fertilizer,
steel and cement, overload the vehicles to save on the freight cost. Considering the trip economics, they are willing to pay
higher to enter the city. In fact, there are a few states that have almost legalized overloading by issuing formal permits; illicit
payments mostly clear the way for such vehicles.