25 Jun 2019
Indian Government planning to increase the number of MSME's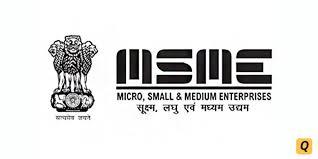 New Delhi: The Ministry of Micro, Small and Medium Enterprises is aiming to increase the number of micro and
small industries
in India on a sustainable basis by implementing various schemes and programmes. The ministry is planning to provide better credit facility, technology up-gradation and skill development to boost the entire
MSME
eco-system of the country.
Under the Prime Minister's Employment Generation Programme Rs 2,247.10 crore has been allocated for FY 2019-2020 that will generate self-employment opportunities for unemployed youths through establishing micro-enterprises in the non-farm sector.
The government will facilitate credit to the micro and small enterprises through the Credit Guarantee Scheme for Micro and Small Enterprises (CGTMSE). This scheme provides collateral-free credit facility extended by eligible lending institutions to new and existing micro and small enterprises. In the last financial year, a total of 4,35,520 proposals have been approved providing a guarantee to a tune of Rs. 30,168 crore.
Union Minister for Micro, Small and Medium Enterprises
Nitin Gadkari
has said in Rajya Sabha that during 2018-19 17 Common Faclity Centres and 11
infrastructure
development projects have been established.
Under the Credit linked Capital Subsidy Scheme or CLCSS, technology upgradation of small scale
industries
, including agro & rural industrial units have been facilitated by providing 15% upfront capital subsidy. During 2018-19, a total of 14,155 MSE units have been assisted utilizing subsidy of Rs. 980.44 crore.