1 Aug 2017
Government launches mobile app to buy RFID cards for highway toll payment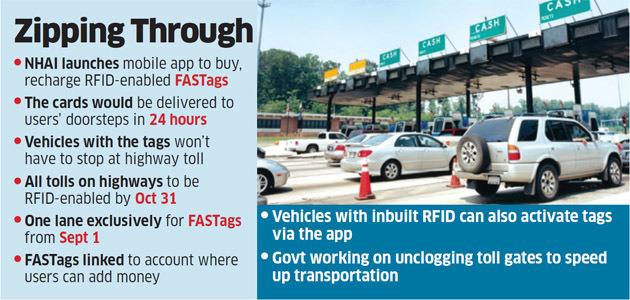 NEW DELHI: In a bid to reduce congestion at toll gates on national highways, the government has launched a mobile application through which highway users can buy FASTags (radio frequency identification or RFID cards). The cards would be delivered to the users' doorsteps within 24 hours. The government will also make all toll lanes on highways RFID-enabled by October 31, and one lane at toll gates would exclusively be reserved for FASTags from September 1. Currently, only 7 lakh vehicles have active toll tags in the country.

Till now, the toll tags, developed by the Indian Highways Management Company Ltd (IHMC), a tie-up between the National Highway Authority of India (NHAI) and the National Payments Corporation of India (NPCI), were available only at toll plazas and several banks, including ICICI, Axis and SBI.

A FASTag is linked to an account where the user adds money. When the vehicle approaches the lane at a toll plaza, a sensor reads the tag attached to the front windscreen of the vehicle, deducts the fee and the gate opens. The users will be able to recharge their toll cars on the newly launched mobile app. Cars and other four-wheeler users that have inbuilt RFID installed on their vehicles by manufacturers will also be able to activate the tags through NHAI app.

Almost 74 four-wheelers manufactured after 2013 have inbuilt RFID tags but they were yet to be connected to the servers of the Indian Highways Management Company. "A separate app has been launched through which people who already have RFID tags inbuilt in their vehicles would be able to activate it," an NHAI official said.

After abolishing border check posts, the government is working on unclogging toll gates to speed up freight transportation. The movement on highways post the GST implementation has become smoother as border check-posts have been removed. Goods-laden trucks now log an average 325 km every day compared with 200 km earlier.

Now, the government wants to unclog the highways further and electric toll collection remains the only solution as recently courts have ordered removal of several toll gates because of high congestion leading to revenue loss for the highway developers and the government. "Toll tags bought from the mobile application would be delivered within 24 hours.

Users can also buy them from NHAI and bank websites and Common Services Centre (CSC) near toll plazas. The users will be able to recharge their toll cars on the newly launched mobile app," the official explained.