30 Aug 2018
Ooty plans ban on heavy goods vehicles..by TOI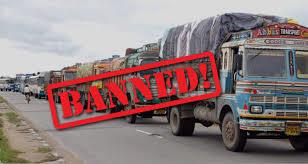 UDHAGAMANDALAM: The regional transport authority has sent a proposal to the government seeking a ban on movement of heavy goods vehicles on Ooty to Burliar (NH 67), Ooty to Gudalur, Ooty to Kunjappanai (SH 15) and Thalakundha to Masinagudi stretches.
The proposal, sought under Section 115 of the Motor Vehicle Act, was based on the recommendation of the former Nilgiris superintendent of police (SP) Murali Rambha. In the interest of road safety and to curb accidents and save lives of people, she had suggested restriction on operation of vehicles or trailers having more than three axles exceeding gross weight of 25,000kg and 10 wheels, the proposal said.
"The suggestion of the former SP was taken into consideration and a meeting was held with all stakeholders comprising highways departments, police, Nilgiris district regional transport authority and the district administration," said Lakshmipathy Raj, regional transport officer. "In this connection, we need to get concurrence from the state transport authority and hence the proposal has been sent to it," he added.
According to the proposal, despite the GPS-based highway patrolling system and significate data capturing system (RADMS), the initiatives taken by authorities to bring down the accidents, be it fatal or non-fatal, had not yielded the desired result. This situation is a matter of grave concern.
The proposal also points out that the Nilgiris district being hilly terrain has many hairpin bends, narrow stretches, short and blind curves, and in many places steep gradients. These stretches are hazardous, especially to the drivers coming from the plains as they are totally unaware of the topography of the district, which would make them unable to control their vehicles in case of emergency. Moreover, volume of traffic, condition of roads and movement of pedestrians play a major role in causing accidents.
While Coonoor-Mettupalayam Road has 14 hairpin bends, Kotagiri-Mettupalayam Road has 4 hairpin bends. Earlier, Ghat Road was blocked a few times as trailers with 10 tyres could not navigate the hairpin bends.