30 Jun 2018
Riding a truck to get e-way bill experience...(TOI)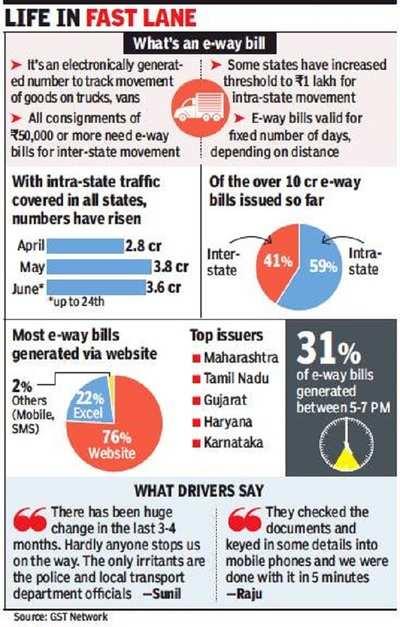 It's 10 PM as Raju checks the documents and the
eway
bills before switching on the stereo. Kishore Kumar's "Jai Jai Shiv Shankar" wafted from the speakers, as he steered the truck out of the loading bay of a logistics hub in Manesar. Carrying auto parts, the Haryana-registered container truck is headed for Hyderabad.
"It's better to start late in the night to avoid the barrage of private cars on NH-8 (that connects Delhi to Mumbai)," says Raju. But isn't there more harassment by authorities at night? The driver, who hails from Assam but is fluent in Punjabi, says that there are fewer checks since e-way bills were kicked in earlier this year.
"Earlier, it took at least three hours at every state border," he said. "It was a hassle and you had no idea whether state sales tax officials will clear your documents in a few hours. Now, you don't need to worry if you have all the necessary papers. Last time while returning from Mumbai, sales tax officials from
Maharashtra
wanted to see the e-way bill. They checked the documents and keyed in some details into their mobile phones and we were done with it in five minutes."
Currently, most trucks plying for logistics companies come equipped with FasTags (an RFID tag pasted to the windscreen) for paying toll. But despite the improvements, Raju said transport department officials and city traffic police still pose some problems. Soon enough, after around an hour, as the truck reached Shahjahanpur, the border of Haryana and
Rajasthan
, Raju spotted a blockade guarded by a few men in uniform. They were from the state transport department, who check the registration papers and the transport permit. One of them was unsuccessfully trying to flag down trucks with a stick. Raju stepped on the gas.
"Why should I or anybody stop? They stop us only to extract money," he said. "If I start paying like this from here, I will be left with nothing by the time I reach Hyderabad."
The native of Assam recounted instances of transport department vehicles chasing trucks to Shahjahanpur toll plaza. So, as the truck neared the toll gates, he switched off the music and glanced at the rear-view mirror. Fortunately, nobody was tailing him. 'Toll plazas are still a pain'
Around 50km later, the local police had set up another blockade. Cars were being checked and trucks were being let through. But a few kilometres before Jaipur Bypass, a "flying squad" had stopped a few more trucks. Raju stopped at a distance but the officials waved him on. From then on, till Ajmer Bypass, it was smooth sailing.
Other truckers narrated similar experiences. TOI also hitched a ride from Delhi to Aligarh on a truck that will be on the road for three days before it reaches Kolkata. The driver Sunil says on this sector too there has been a big change since e-way bills kicked in. When Sunil's truck passed through Ghaziabad and Dadri, he did not encounter any blockades or flying squads — a surprise considering the number of reports from transporters on harassments on the pretence of e-way bills.
Sunil's truck did not sport a FasTag and he paid in cash at the first toll plaza at Saithali on NH-34. "Toll plazas are still a pain. Even those who have the FastTag need to wait in the queue as everyone paying cash clog all the toll lanes and there is hardly any lane enforcement by the toll-collecting agency," he said.
Till Aligarh, Sunil did not spot a single blockade or
flying squad
.