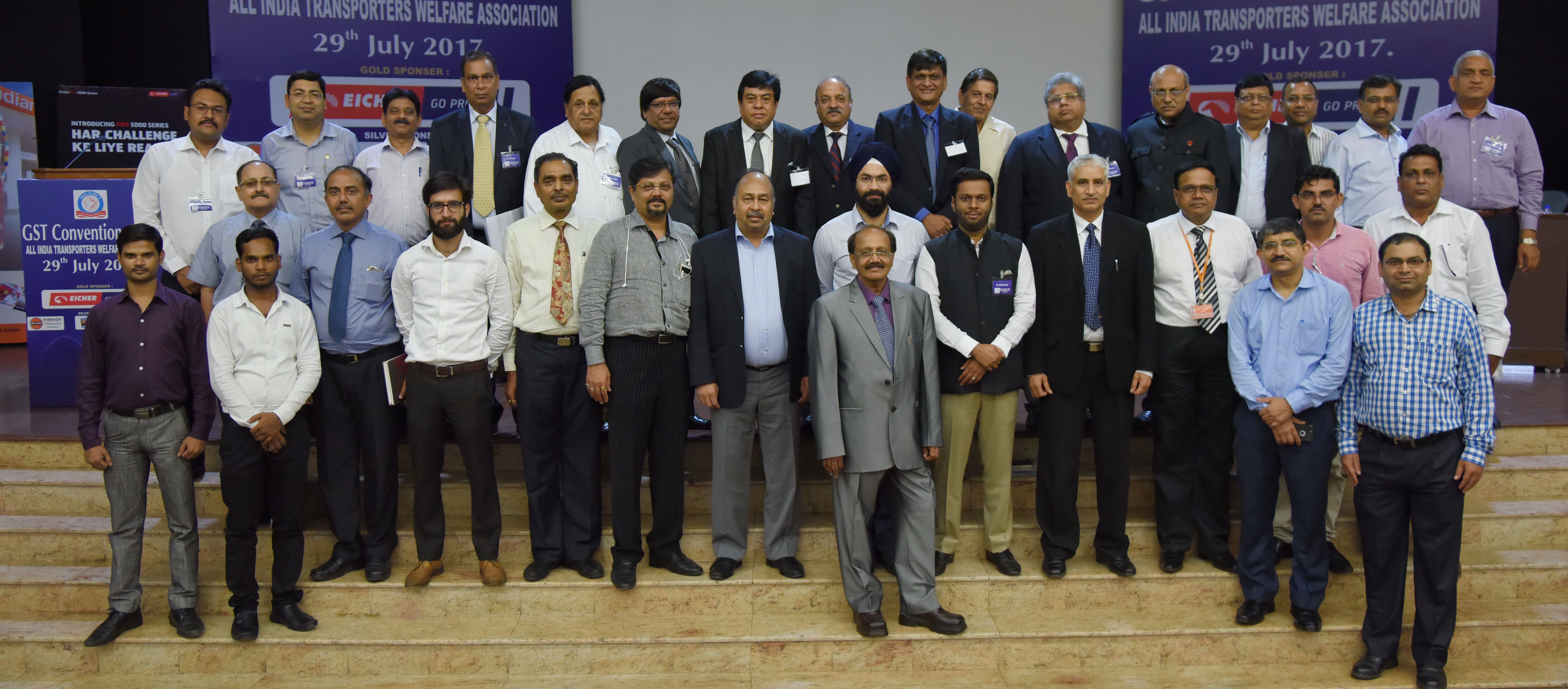 All India Transporters Welfare Association (AITWA)
All India Transporters Welfare Association (AITWA) was established in the year 2000 as a society registered under Societies Registration Act, 1860 for the welfare of India's Road Transport Fraternity and to act as its mouthpiece in the matters related to country's Road Transport Industry. During the past Twentyone years, AITWA has been recognized as one of the foremost apex bodies of India's Road Transport Sector by the Ministry of Road Transport and Highways (MoRTH).

AITWA have been generously working as a powerful pillar of nations prosperous economy from the past 21+ years, representing nearly 65% of the organized Indian Road Transport Business.

A proud member and Indian partner of International Road Transport Union (IRU Geneva), AITWA represent issues of India's transport industry with Central & State Governments and other authorities including planning commission. It also interacts with various other trade forums like CII, FICCI, and ASSOCHAM, PHDCCI, CAIT, etc. to help formulate the best system and policies.

With four zones and National office in the heart of India Delhi, the network and reach of AITWA spreads across the length and breadth of the country.
Usher the Indian Road Transport Industry into Globalizing Indian Economy by creating the right environment for development of Transportation, Logistics and Supply Chain services, through establishment of logistics parks, transport hubs and modern warehouses in order to provide to its customers World Class Transport & Logistics Services so as to place India as number one Logistics and supply chain based economy in Asia by the year 2020.


We shall always endeavor to make a difference in the working of Indian Road Transport (Goods) Industry at home as well as abroad and secure the rightful place and recognition in India's social, economic and cultural life by rendering World Class Transport and Logistics Services, thereby gaining the power And prestige deserved by this important sector of Indian Economy, At the same time we shall work for all-round welfare of Road Transport workers viz. drivers, helpers, loaders, supervisors, mechanics and employees engaged in turning the wheel of the Indian Economy day and night 24X7.
Collaborate
To share and develop world-class best practices by regular interactions and knowledge sharing amongst the members
Co-Innovate
To tap the collective potential of all the members and undertake innovative projects so as to explore new business models, create world-class infrastructure for leveraging the latest technology across the various elements of logistics and supply chain.
Co-Influence
To work with Government and various agencies to tackle issues which are impediments to efficient logistics in the country and layout a policy framework so as to support the fast growth of our economy
Care
To work towards welfare, safety and security of all the stakeholders including the real heroes of transport ie the Drivers.
AIDS AWARENESS PROGRAMS, especially at highways since it accounts for 22% (approx.) HIV population of the country.
Launch of JAGRATI RATH, Mobile Aids Awareness vehicle to tour the length and breadth of the country, which was flagged off by the then Vice President of India BHAIRO SINGH SHEKHINAT in the year 2007.
Blood Donation & health camps from time to time.
EDUCATIONAL ASSISTANCE to children of drivers/cleaners/helpers and other employees in the Road Transportation Industry.
ESTABLISHMENT OF ROADSIDE AMENITIES like restrooms, hospitals & Driver Seva Kendra for transportation workers.
Road safety programs
RELIEF AND FREE TRANSPORTATION FACILITIES to people in the case of emergencies like natural calamities or disasters.
HELP RAISE PUBLIC VOICE AND OPINION regarding Road Transportation to the apex powers.
ENGAGE AND NEGOTIATE with Government & other stakeholders in the issues affecting the trade. LIKE SERVICE TAX , TDS , National permit, carrier act, motor vehicle act, warehousing policy, logistics and transport policy, insurance matters, etc.
Publication of AITWA's mouthpiece PARIVAHAN PRAGATI as the foremost journal of India Road Transport Sector.
Represent India at the Annual general meeting cum conference of International Road Union (IRU)
Assist members in the development of logistics & supply chain services through the establishment of logistics parks, transport hubs & modern warehouse.
Fully geared & capable office & secretariat to resolve the issue of members in the trade. Updating members regarding the latest policy & laws.
Periodic interaction between members through seminars, workshop, meeting and social functions.
AITWA constantly in touch with ground realities has prepared a 4 point immediate action point plan affecting the growth of industry which is doable with the strong support of our Central Government:
Safe and barrier free movement in India.
Remove toll tax
Take care of highway robbery
No stop of vehicle or goods without probable cause
All formalities if any by any authority to be before the start of the journey.
Social security and safety for drivers and transport workers.
Establishment of 150 medical clinics in transport centers, all-over India.
Change in social security laws for the mobile force
Stop corruption and highhandedness of Police & RTO
Changes in carrier act.
Proper security to transporters in carrier act.
Transportation payment to be recovered in 30 days like MSME act.
Make the transportation business healthy for all.
A monthly index of transportation cost by Central Government to be indicated every month
The variable cost of diesel to be stopped
Overloading to be stopped
AITWA has full faith that with the continuous support from the Central, State Government and unfettered support and trust from all the stakeholders the Indian Transport industry will have a sound future.
While playing a key role in the economic development of our country, the Indian Road Transport Industry is helping the Indian economy in optimal distribution and allocation of country's scarce resources, thereby maximizing country's wealth as well as carrying the essential commodities consumed by the masses to every nook and corner of the country.

AITWA is fully committed to making a sustainable and impactful difference in the arena of Indian Road Transportation Industry. AITWA pledge to work for the welfare of our transport department to give our country the much-needed position as an all-rounder economy across the globe
We Care….. We Contribute….. We Complain